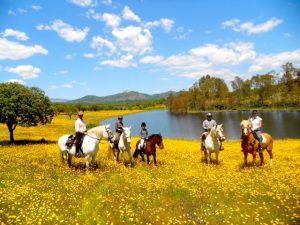 Discover the spectacular Spanish region of EXTREMADURA on horseback.
Qualified, experienced guides will accompany you through one of the least known regions of Spain. This rural part of the country is still unspoiled and you will be able to view impressive sceneries and learn about the local fauna and flora. The part of Extremadura that we shall show you is called SIERRA DE GATA , located in the Province of Cáceres.
Come to Spain to enjoy riding along the medieval routes and tracks while enjoying views of amazing beauty, visit historical sites and meet the local hospitable, authentic and kind local population and of course relish at all times the unique regional cuisine !!!! All this without renouncing the commodities provides by the luxurious and magnificent rural hotels located in enchanting villages. For the adventurous we can provide special, exciting routes with the option of camping out in tents set up in the countryside.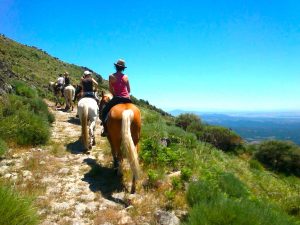 To those who accompany the riders but do not have equestrian experience , other activities can be offered , like mountain bike rides , hiking excursions , or the option of following the riders by four wheel drive cars . They can also experience their first ever ride on horse back , celebrated afterwards with an equestrian baptism ceremony at our beautiful farm, settled among the oak trees .
All riding holidays can be combined with visits to various points of interest , like the feeding sites for vultures, the various vineyards and wine cellars of the region , or the world famous Olive Oil Museum.
Tailor made packages, including transport, accommodation and tourist excursions are offered to suit all pockets.
For further details and booking, please contact miriam@miriamfrenk.net