My name is Ahmed Hegazy, and I am a professor of Neurosurgery at the university of Cairo. In 2017-after a lifetime as a scientist-I decided to follow my dream of becoming a high school-horse trainer. After a lot of reading and surfing of the internet, I came across a line that Miriam had written "I can help directly for anything in the horse world, or at least tell you,who can ". I contacted her and was surprised to find a kind and modest lady who went through extreme lengths to help. She guided me in the darkness, coordinated the contacts I needed for my training , and never asked for anything in return. Every time I would go to Spain, she would travel halfway through the country to meet me and make sure all was proceeding well. What I know right now about training horses in hand is thanks to Miriam's assistance and guidance.
We did not forget our experience with Miriam back in 2012. Her knowledge of the Iberian horse was impressive, she was super efficient at communicating, as was her determination to get that perfect match. This was alongside all the support she gave us, ensuring that, when we had made our choice, the process of importing Orgulloso really was very straightforward. BUT all of these things were overshadowed by the most important quality that a client wants a 'horse finder' to have which is honesty. And where honesty is found, trust follows.
So for a second purchase a decade later, even though there is now a plethora of 'horse finders' on the internet it had to be Miriam who was going to make this happen for us. That trust that was instilled in us in 2012 allowed us to acquire 4 year old Niquel without visiting him in Spain. We looked at the numerous video updates Miriam sent us, and when she said he was a good horse, we believed her. When he arrived at our stables in Wiltshire, UK, less than 24 hours had passed and we could see that he was in fact the perfect horse. Superb temperament in the stall and under saddle, as well as being a promising future prospect for competition success. He arrived in July, was gelded in August. Time off in the paddock and brought slowly back into work. British Dressage Lusitano Preliminary Champion by the end of November.
If you are looking for an Iberian horse Miriam is the one to reach out to. It is a mistake not to make this the first thing on your to do list when you are ready to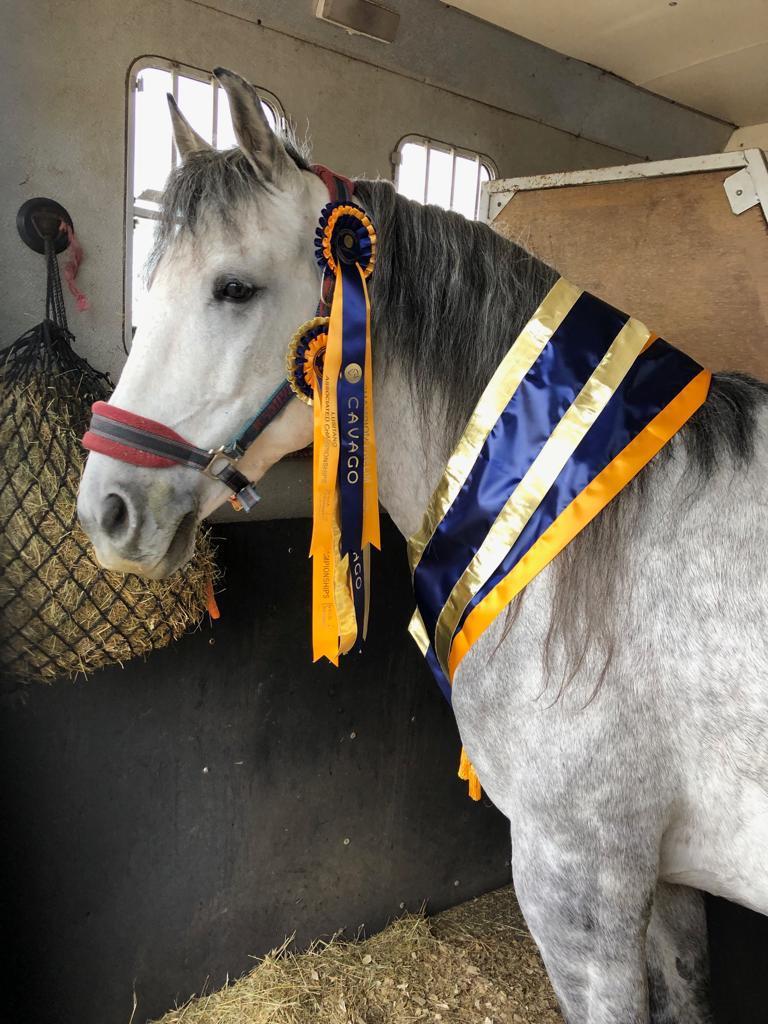 If you are looking for a Spanish import, Miriam is your go-to!  Her experience, knowledge and wisdom are invaluable when making such a special decision.  I have just purchased my second horse through Miriam and her attention to detail and ongoing communication are wonderful.
She makes what seems like an onerous process, straightforward and efficient, carefully guiding you through all the details.  Miriam has helped me to find some incredible dressage partners and we have continued to stay in contact over the years.  Many thanks again Miriam, Biberon (and Yunque) are doing really well and I look forward to keeping you posted on our progress!!
Miriam Frenk is one of the most professional, caring equestrians I have ever had the honour to work with. I am originally from Manchester in the UK and have worked and lived out in the Middle East for over 30 years, in the healthcare profession.
Having ridden since I was 12 years old, and owned many horses, as an adult expat, I took a huge risk "horse shopping" on the internet. I literally 'happened upon' Miriam's website among many, many others out there on the (scary) WWW, and sent a few enquiries out to many random "horse finder / export specialists."
Miriam responded to my enquiry, where I had let her know what (I thought!) I was looking to buy. Her 24/7 communication and dedication to making sure I find exactly what I am looking for was truly exemplary.
She soon worked out via perfect real-time communication that what 'I thought' I wanted to buy (although certainly the much more expensive option!) was not necessarily what would suit me nor the horse! I have never, ever been treated to such careful guidance – she genuinely cares that the horse and rider are perfectly suited for each other – with no 'hidden agenda.'
A long story short, when she meticulously attended to every minutia of detail; ranging far above the pre-vet checks, videos upon videos from her visits to the horse she thought 'best suited' my needs, recommended custom-made saddle from the local saddler (which is the most amazing saddle I have ever seen), the insurance, the road travel, the airline, the export / import procedures… the list was endless but painless. She managed to get the most divine 6-year-old, chestnut PRE stallion from Spain through France to Belgium. Quarantined, onto the flight into Bahrain… and he arrived to me in excellent healthy condition in May 2022.
There is absolutely no way on earth I could have personally managed to navigate through the whole process; from selection to safe delivery, if it was not for Miriam Frenk.
I am absolutely overjoyed with the services, suggestions, and navigation from A-Z and stand to testify that she is arguably the best "horse finder" you will ever be privileged to work with…. Not to mention that my stallion is, dare I say, "The Envy of Bahrain." May he have a long, happy and healthy life here in his new stables.
I could go on and on and on…. But will finish by stating that if anyone has any doubt at all about Miriam's trust, recommendation, honesty, sharp eye, wit, sense of humour and candor – and most of all, CARE about horses – I am happy to be contacted (via Miriam).
Miriam – thank you – from the very bottom of my heart.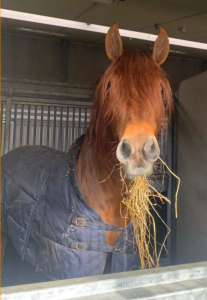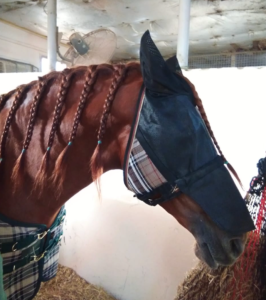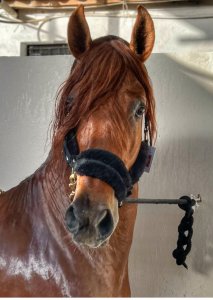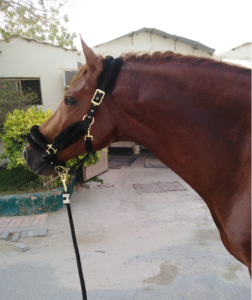 I just wanted to let you know how happy I am with the services you provided to me and the horse you found me.  You were always incredibly responsive and you provided me with a steady stream of suitable horses to consider.  You walked me through the process all the way and introduced me to all the right people to help me export the horse I decided to buy.  I have recommended you to several other people and I will continue to do so because you were so great to work with.  And, of course, the most important thing is the horse.  Impaciente is perfect for me.  He meets all my criteria and exceeds all my expectations.  He is stunning, he moves incredibly, and his temperament is great.  I am confident he will be the horse of a lifetime for me.  Thank you so very much.
Sincerely,
Selecting and purchasing a horse for export from half a world away is no small undertaking. Regardless of if you are a horse novice or seasoned expert, you need experience, knowledge, and guidance throughout the intricate process.
The level of expertise and professionalism offered by Miriam Frenk in orchestrating the many moving parts of this process, is simply unparalleled. She represents honestly and accurately, communicates quickly and clearly, and thoroughly prepares her clients by outlining every detail of the purchasing and export/import process in advance.
Simply put, this woman is a dynamo and I consider myself lucky to have benefited from her many years of equine experience. I now have a stunning, healthy and highly educated PRE companion in my barn, and Miriam to thank. Not only would I not hesitate to recommend her, I would insist on her!
I found my dream horse with the help of Miriam. After talking to many sellers and looking through countless ads I finally found the right one. Miriam's professionalism and helpfulness made the big project of importing a horse from Spain to Norway so much easier. Miriam is very trustworthy. She gave me a thorough description of the horse I had found and could give me all the details about background and how he was in every situation so I could be sure he was a potential horse for my needs. I booked a flight straight away and was so happy to see that the description was spot on! The stables were nice and the trainer was both a very skilled rider and a good horseman. Being new with import it made such a big difference to have the help of Miriam for every silly question I had. Thanks to this, everything went perfectly well, every step of the way. I can truly recommend Miriam. My horse is everything I dreamed of and I couldn't be happier with him!
We found our dream horse through Miriam Frenk. She guided us all the way through the process and we felt secure with her trying to find the right horse for us. She was honest about horses we liked that she thought wouldn't be suitable. It was the first time we bought a horse from another country and of course we had many questions. She always responded as soon and as accurate as she could and was very helpful. It was nice meeting up with her in Madrid and have her opinion when visiting the horses. We now have a lovely horse with great temperament and rideability perfect for both dressage and trail rides. We couldn't be happier and can warmly recommend Miriam
It's pretty difficult to come up with adequate words to express my admiration and thanks to Miriam Frenk. Miriam knew the perfect horse for me before I even knew. Helio JM arrived at our barn in Victoria, BC, Canada 5 days ago. Miriam listened closely to my desires and carefully considered my abilities. She devoted countless hours, endured endless questions and always had time to look at just one more horse. Once Helio was found Miriam tirelessly, and almost effortlessly, led me through the process of testing, vetting, purchasing, gelding, exporting and importing. Helio exceeds everything I wished for. He managed to endear himself to every person he came into contact with on his epic journey to Canada from Spain. I'm still asking Miriam just little questions now and she's still generously offering advice. Thank you Miriam from the bottom of my heart. I can't wipe the smile of my face, nor can I stop myself from going to the barn for just one more look at the beautiful boy you found for me.
Dear Miriam,
I want to thank you for everything you've done to me you are very professional and reliable. buying a horse online is very difficult but you made it easy for me…you have been very patient and reliable advisory all the way.
Not only you helped me find the horse of my dreams but also you followed up with transport procedure and made sure I receive the horse sound and safe.
you are the best, I wish you all the success and advise every one to buy from you because you are %100 real in all aspects.
After suffering through two very difficult imports, a good friend of mine suggested I consider getting my PRE from Spain. I thought absolutely not to another import !!! I was so gun shy and lacking confidence. But because I trusted my friend's contacts in Spain so much, I decided to take the leap of faith one more time.
Best move I've ever made !!!!! Through Miriam Frenk and her honest guidance and expertise, I finally found the horse that was meant for me. His name is Ritmico and he is everything Miriam said he was. Even when I doubted her, she continually encouraged me about this horse. Ritmico is kind and endearing, interactive, talented, and handsome !!!! He has made my life horse happy again !!! ❤️. Big thanks to you Miriam !!!!
Happily signed,
Miriam – Spanish Horse Broker, Trainer, Counselor, sometimes Psychologist and friend!
Trying to find a Spanish Horse here in the US proved very disappointing and expensive, so as I started looking into importing my own, as a "backyard" horse owner it was overwhelming. I found Miriam from her website and we started communicating about six months ago. Now I have a beautiful PRE with a wonderful temperament who has settled into my little backyard herd quite nicely. He is extremely well mannered, very friendly and easy for me.
In a world (at least in the US) where customer service no longer exists, it was quite refreshing to work with Miriam. It's as though you are the only client she is working with. Only an email or phone call away, she was always available to guide me through this process. Amie was a great help, also a client of Miriam's, so I didn't feel alone doing this by myself. We had some challenges along the way and I couldn't believe how Miriam can get things done in spite of some difficult circumstances, with professionalism and excellent communication. The quality of horses she has access to, the people and veterinarians she works with and the quality of service she provides is like nothing I have ever experienced! You will not be disappointed if you decide to go through this journey and will end up with something very unique and beautiful!
Feel free to use me as a reference,
Words fail me in praising you and how wonderful my Spanish horse shopping experience was because of you. I have recommended you to all my horse friends, so please feel free to use me as a reference. You not only took care of finding me the perfect horse, you were wonderful in helping me and my trainer find great places to stay and creating a great itinerary for us in Spain. My requirements for a PRE were very specific: large, black, handsome, movement that was not baroque and more like a warmblood, and he had to have an absolutely angelic temperament that would be tolerant of my efforts to learn dressage. I had no idea at the time that large and black PREs are quite rare, with less than 5% of all PREs being black, and even fewer being as large as 17 hands.
Amazingly, you were found my horse within a day or two, sent great pictures and videos, and arranged for vetting, X-rays and piroplasmosis test in advance because I did not want to waste a trip if the horse wasn't qualified. All fees were reasonable, and the vet you recommended even spoke perfect English, having worked at a very famous clinic in Lexington, Kentucky. William SS was exactly what I had asked for, so much so that l declined to look at any of the other horses you had lined up. Even my pro agreed it was not necessary since we had found just the right one! Your patience and understanding in answering my many questions during and after the import process was remarkable. I now have the perfect horse, now settled in Wellington, because I had the perfect agent! Thank you so much for all your hard work; you have made a friend for life, sincerely.
With warmest regards,
Dearest Miriam,
Words cannot even describe the many emotions i have. First, as you know, being a professional horse person, i had major trust issues. The whole thing, finding, you going to visit, videos, pictures, arranging vetting, arranging all the transport issues. YOU AND YOUR TEAM ARE AMAZING! This 6 month journey has been one of anxiety, and excitement. You have encouraged me to trust you, and i did, and i am so thankful we met. You found the perfect horse for me, he is "real", and he is here, safe and sound.
Of course, i would be a reference for you and your company, till the end of time! I will stay in touch and keep you aware of our progress. Again, Miriam, you did all the right things, you made me feel comfortable, and we will be forever friends. Please, if you come to the States, come stay here in the Adirondacks of New York!
Best Ever Regards,
Hi Miriam, how are you? Just a quick note to tell you how delighted I am with the beautiful Fraque. He and I are getting on so well and I am having a lot of fun with him. He is such a happy, willing horse and tries hard to do what I ask him. He has settled in really well and become a favourite at the stables.
He travels in the horse trailer with Ali with no fuss and they get on very well together. It has been very useful to have Ali show him around and give him confidence when we go to different places on the island.
Last weekend we did our first dressage show and he behaved so nicely and went very well, I could hardly believe he had only been here a month. We won both classes we did and got 68 % in both tests. He was behaving as though he was born to do it. I was very proud of him and the judge was very complementary. My friends all agreed that I am
extremely fortunate to have found such a lovely horse. I tell them all who found him for me!
Hi Miriam,
What a day! Azul has arrived!! Poor horses and drivers got held up in Calais because of this weather. But arrived safe and sound and he immediately made himself at home.
He is very settled, but a tired boy who needs to catch up on some sleep.
Everyone thinks I'm mad to buy a horse without seeing them but I believe I first contacted you about 8 or 9 years ago so thank you for bearing with me but when I see the right horse I tend to know. Not one person doubted me when he walked off the lorry.
I must admit you have been a pleasure to communicate with and nothing has been too much trouble.
Your reputation in the Spanish horse world is very well deserved.
I will update you once he is started back to work, think he is due a mini break to acclimatize
Thank you again, you have made a dream come true
Добрый день Мириам!
Я хочу искренне поблагодарить Вас за помощь, благодаря которой я купил коня своей мечты Consentido!
Ваш профессионализм, искренность и доброжелательность трудно переоценить – Вы одна из лучших в своем деле!
Несмотря на то, что у меня не очень хороший английский и полностью отсутствовал опыт покупки лошади в Европе –
Вы организовали все просто великолепно! Огромная работа проведенная Вами до моего визита по подбору коней,
соответствующих моим запросам, видео, рентгены, резервирование коня до моего визита – все быстро и четко.
Я провел с Вами два великолепных дня в прекрасной стране, приобрел лошадь своей мечты, увидел много интересного
и нового. Благодаря Вам мне не пришлось ни о чем беспокоится, начиная от встречи в аэропорту и заканчивая отправкой
лошади в Россию. Благодаря Вам я познакомился с достойными людьми – настоящими профессионалами своего дела,
людьми, которые как и Вы, реально делают для нас возможность обладать лучшими лошадьми в мире!
Огромное спасибо за Ваш профессионализм и искренность.
5 weeks back I met Mrs.Frenk in Spain after a long and professional conversation via email. Upfront she got the profile of the horse I was looking for. We spent 4 days together and during these days she showed me exactly horses matching my profile. No wasted time seeing horses I wasn't looking for. Mrs. Frenk is absolutely professional and reliable with a lots of knowledge she's happy to share with the future owner. All the time she was helpful and gives advices if wanted. I found my dream horse with her help and tomorrow he will arrive at my stable in Dubai. Mrs. Frenk was responsible for all the work which had to be done long before the horse leaves Spain and again there is nothing to wish for more. She is honest, fast and professional. I can highly recommend working with her.
Hi Miriam,
I just wanted to thank you again for all your efforts getting me the best horse there is 🙂
I cannot tell you enough how pleased I am with Floro, what a magnificent horse he is, and how happy I am that I contacted you to get him.
Kind regards,
Dear Miriam,
Merry Christmas and a hope for a prosperous 2014. I wanted to give you an update on Dominante. He arrived in Austin Texas on August 8th and has acclimated very well. He is in training with Barbie and I ride him four days a week. I am planning to show him at Prix St. George in Houston the weekend of January 18th. Dominante is absolutely the most athletic horse I have ever ridden. It is hard to believe he is only 7 years old. I have really bonded with him and he waits for my truck every evening at the barn. Miriam, my experience with you could not have been better. You found quality horses for me to ride. The travel arrangements made the trip very efficient for Barbie and me given our tight travel schedule. I very much appreciate that you wanted me to have 3 horses as top picks. This ensured after vetting I would have a horse to import into the United States and not be in a situation where I would have to travel back to Spain. The arrangements for import and travel to Texas went well. You know as banker for 20 plus years, I wanted to eliminate all risk related this sale and receipt of the horse. You accomplished this for me. I am available as a reference should have prospective clients considering a PRE purchase and/or a trip to Spain. I will send you show pictures from the Houston show. Please keep in touch.
Warmest regards,
When I was a teenager forty years ago, I had the great fortune to have a horse from Andalusia. I have continued to ride and practice dressage since then, and had known other lovely horses, but my heart has always returned to the dream of owning another PRE. And so, from time to time, I have looked at various videos of beautiful Iberian horses. Finally, last spring, something about one of the horses that Miriam Frenk had on her website particularly captured my attention. Miriam kindly responded to my various questions and patiently waited through my uncertainty about whether I had the resources for another horse in my life. Finally, last summer I leapt! I committed, sight unseen, to buying the beautiful chestnut stallion in the videos and to keeping him in training for some time at the same barn where he was stabled. My friends who don't ride were so enthusiastic for me, while my riding friends despaired that I could have made a mistake buying a horse I hadn't seen from someone I didn't know and using an agent that I hadn't met. My heart told me that this was the right thing to do. Finally in November I was able to travel to Barcelona to meet my new horse. The naysayers (neigh sayers) couldn't have been more wrong! I had an amazing trip to Spain! I LOVE my new horse. He is even better than represented, and Joan Font, the barn owner is a very impressive horsemen and his talented young rider, Mark, is thoughtful and tactful in his approach to my stallion, and I appreciated their hospitality and loved meeting them both, and I am extremely happy that my new horse is still in their care while he receives further training . But, by far the best thing about the whole experience was getting to know Miriam, who is a very lovely and special person who understands how to knit together a relationship between horse and rider, and further who understands the value of that relationship to those of us who are obsessed by the generosity and beauty of the horse. This whole experience has been amazingly satisfying and fun on so many levels. I highly recommend it.
My search for a PRE Andalusian involved months of searching via the internet. Private contacts were tedious and discouraging so I reached out to agents who dealt with Andalusian horses. This became confusing and daunting until I connected with Miriam Frenk. Thanks to Miriam, my search finally had direction and focus. Through videos, photographs and pertinent information, she helped me to narrow the field from dozens of beautiful horses to a very distinctive group of 10. Her professionalism, vast knowledge base and honesty gave me a great deal of confidence and dissolved any fears or doubts that I may have had otherwise. Her expertise and keen eye kept me focused and quided me to the perfect PRE choice for my purpose. I am thrilled and anxiously await the arrival of my new equine partner! I cannot say enough about Miriam's integrity and helpfulness and would highly recommend her alone, to anyone looking for their perfect Andalusian horse.
Sincerely
Hi Miriam, Just a quick note to let you know that we showed Bandolero at the Royal Windsor Horse Show in the Andalusian Class. It was the first time that we have ever taken him in a showing class. He behaved like a star even when carriages went by, horses were misbehaving and people were opening and closing umbrellas. He was third in a class of 20 and the judge said that the only reason he was third was that the he felt Bandolero was less mature…which was true. I didn't ride him. Since I have been back from Florida, I have been having problems with my hip and can't ride him. So, the lady who was training him while I was away rode him. She is a dressage rider and has never shown, but she did a great job. I was so proud of him! I hope that I will be riding soon and can start competing him in dressage. He is going so well. But even better, he is the nicest person and is unphased by anything. Thank you for finding him for me!
Best
Hi Miriam, Thank you so much for introducing me to such a wonderful horse -he has literally changed my life! (You are welcome to use this in your advertising!) I am meeting so many good people through him. Have just had dinner with Eleanor Russell and she told me she had got hold of you and mentioned Exclusivo. Thinking back on things – I have met wonderful people like Peter Maddison Greenwell,and others through you and the Iberian breed. Literally a different 'breed' of people. I will always remember your kindness Miriam = I know I am no great rider, but I feel like a queen when on my 'white charger' and I thank you for introducing us.
sincerely
To whom it may concern: November 2006
I first came into contact with Miriam approximately 5-6 years ago when I was looking to purchase some PRE horses and Miriam conducted herself with the utmost professionalism and integrity.
During the past 5 years or so, I have had many experiences with a number of Spanish horse agents, some good and some bad.
The person I have ALWAYS returned to, sometimes only for advice and assistance (with other people's problems!) is Miriam Frenk. Her knowledge and experience know no bounds.
It is interesting that Miriam is the only Spanish horse agent who is granted membership of the BAPSH (British Association for the Purebred Spanish Horse) and subsequently allowed to advertise in the Association's magazines etc. This, I personally feel, speaks volumes about the high regard in which she is held by the British Association.
I would have no hesitation in recommending Miriam's services to anyone wishing to purchase a Spanish horse. She is totally trustworthy, honest and professional and I would be more than prepared to confirm this personally should it be required.Yours faithfully
Black Horse Manor Pure Spanish Horse Stud, NSW Australia, owes a big thankyou to Miriam Frenk of International Horse Brokers for her dedication and excellent work with assisting us to locate and import our horses. Miriam made what could have been a tedious task into a seamless experience. When we purchased Galero, both my daughter and I continued on with a holiday of Europe while Miriam arranged everything for me. When I decided to buy a mare, I trusted Miriam enough that I did not need to go to Spain to find what I was looking for. Miriam found Kenia-FC for me. She arranged for Kenia-FC to be revised and then located a top class P.R.E stallion to cover Kenia-FC before arranging her importation to Australia, in-foal. The next job I have for Miriam is to find me suitable semen from qualified stallions to import.
To whom it may concern;
I have been assisted in the past 2 years by Miriam Frenk in the acquisition of PRE horses from Spain. I have found her to be of the utmost sincerity and to display a degree of ethical behavior the likes of which are wonting for the most part not only in the horse business but in business in general.
Miriam assisted me initially in my acquisition of my breeding stallion by providing a myriad of different stallion options and giving me her educated opinion. She helped me, a relatively new PRE breeder, by providing video via the internet so I could find some stallions I wanted to view on my trip.
After deciding which stallion I wanted to purchase Miriam facilitated and coordinated all aspects of the transfer, from paperwork for the Cria Caballar to arranging insurance and finally transportation.
After my initial interaction with Miriam and subsequent purchase of my breeding stallion, I felt so comfortable with her that I have purchased a number of mares with nothing other than small video and her recommendation.
It is my opinion that one ought to go into any large capital investment with their eyes open (I am in the investment business). Having said that I feel strongly that Miriam not only opened doors for me (an American) with her contacts but lent credence to my offers. Also she validated or refined my search criteriae, that allowed me to find my dream horse.
I highly recommend her. I cannot say enough about her skills and ethics. If you have any questions or would like to discuss the market or just "talk horses" Feel free to call me at anytime.
Dear Miriam, Pic of NAVIDEÑO as promised. Here he is winning a showing class this summer! I am thrilled to bits with my purchase o NAVIDEÑO . Dealing with you was simple, straightforward and you listened to what I needed. Although many people thought I was mad to buy a horse over the internet, I have to say its one of the most successful purchases I've ever made. You gave me an honest description and found me a horse that perfectly fitted my needs. I consider myself lucky to have NAVIDEÑO in my life, he is about as near perfect a horse for me as I could ever dream of. We have had a successful time together so far, having been in the El Caballo display team, where he performed impeccably, winning show classes and winning dressage at medium level. In fact, he's won everything we've had a go at so far! I am forever being told I am so lucky to have such a wonderfully mannered and talented horse and he didn't cost anywhere near as much as many people think he must have! Thank you for finding me the perfect horse and for making the process so simple and stressless from back here in the UK.
Kindest regards
Dear Miriam, We just wanted to let you know what a great job you do! Here are the results of class 124, Drressage Suitability Open, at the recent Regional Championship show: Champion – Barbaro SB 1 * Res. Ch – Afrodita M Suay * Top 5 – Kripton-Seni II * Top 5 – EC Valdez Top 5 – Despierto XII * * imported by you!!!!! Despierto is doing well. Everyone loves him and is amazed by his temperament. He was only in one class at Regionals as Hayley had surgery in July and still has not returned to riding. But they did squeeze in one show this summer and took 1st place in English Equitation Youth and 2nd in Hunt Seat Amateur (they beat Amanda Shields on Kripton!). Our goal is to take Hayley and Despierto to Nationals next year. Hope we have lots of great news to report then!
Best,
After carefully researching various agency sources residing in Spain in order to locate my first Spanish horse, I chose Miriam Frenk due to her obvious expertise and professionalism. The first stallion arrived in 2001 and is now competing successfully in all three of the main affiliated disciplines in GB, having also frequently qualified for the national finals in several different areas. So impressed with this first horse I have since then purchased three more stallions via Miriam and three mares for breeding purposes. Whilst I visited Spain to select the first two purchases I was confident to allow Miriam to select all subsequent purchases on my behalf. I cannot recommend the services of Miriam Frenk highly enough and am happy to speak to anyone who would like further information at any time.
Hi Miriam,
How are you? I finally met Snoopy today. His character is exactly as you described, very calm and very cute! I haven't had a chance to ride him yet. We have bonded the minute we met, at the paddock he followed me around. He was admired by many people. I want to say thank you for your help finding me 'the horse'. I will highly recommend you to anyone who looks for spanish horse. Thank you again, Snoopy says hi from the tropic!
Best Regards,
Holiday Greetings Miriam and Inaki',
It's hard to believe that we initially connected about a year ago, how time flies! I hope you and your families are well.
Yunque is doing superbly, I just love working with him – he is such a quick learner and is incredibly talented. We participated in our second clinic this past weekend, I have attached a short clip of us working on the walk-canter depart – I hope you are able to view it.
Urdi is doing well also. I'll let Emma provide an update on his progress. I hope to get a picture of the 4 of us soon (maybe in some snow if we ever get any this year…)
Wishing you both a happy and healthy holiday season and prosperous New Year!
Take care,
Hallo Miriam!
Ich wollte mich nochmals bei Dir für DIAMANTE von Ovelar bedanken, er ist in den Wochen die er in Österreich ist ein Prachtpferd geworden! Er wird nächstes Jahr im August seine erste Show laufen im Juni werden Pressefotos von Frau Slawik gemacht – wir werden Dir auf jedenfall die Fotos von Diamante zukommen lassen – Du wirst ihn nicht mehr erkennen :)! Vielen Dank für Deine damals kurzfristige Unterstützung!
Mit lieben Grüßen aus dem sehr kalten Österreich!
Dear Miriam !
Nico arrived yesterday and we have welcome party for him. He is gorgeous and much nicer than on pics and videos. I am in love with him. He was very relaxed ,he laying very calm , and accept us and environment perfectly. Also food !
Equipment is also very good so I want to thank you and tell you that you are profesionalist. Pls we can start to seek same horse for Baku my partner.
I will keep you informed about him and send you more better pics !
Kindness rgds !
I recently had the great pleasure of spending two weeks with Miriam and Eduardo at Coveca, both learning classical dressage and looking for horses at various breeders and stables around the region. Miriam is a very professional and knowledgeable horsewoman as well as a trustworthy guide for your horse buying experience. She planned a very well organized trip for me to see horses that she had personally checked out before my arrival, and no time was wasted seeing horses outside of my predetermined criteria. She is also an excellent instructor and I received a very generous amount of training from her during the two weeks we spent together.
Hello Miriam.
Thanks for mail. I was also notified by the transport firm. I´m looking so much forward to have him home!!! It has been a very pleasant experience to buy this horse trough you. I´ve felt very well treated, your level of information is high and everything has contributed to the impression of professional and skilled handling. I´ll gladly give you my best recommendations to anyone searching for a Spanish horse. I´ll call you next time I´m out to buy a horse J!!
Best wishes